Endocrinology, Diabetes and Metabolism
Our Super specialization is in the field of Endocrinology, Diabetes and Metabolism. This is a branch of medicine which deals with chemicals called hormones. Hormones are secreted by endocrine glands directly into the blood stream. They travel in the blood and go to the target organs where they exert their actions. These glands are ductless glands, hence the name
'endocrine'.
The science of Endocrinology, Diabetes and Metabolism include a wide array of diseases. They are as follows (the following list is not exhaustive but provides some introduction to the type of disorders seen in this field).
Diabetes forms one of the most common disorders in endocrinology.
The relevant hormone in this case is insulin, one of the most studied protein molecules in scientific history. Diabetes is a disease of insulin deficiency and/or insulin resistance. The most common variety is Type 2 diabetes, of which our country is witnessing an epidemic.
With or without diabetes, abnormal lipids or cholesterol levels, high blood pressure and obesity or metabolic syndrome are highly prevalent. These are the lifestyle diseases of our times and hence are amenable to some extent to improvement by lifestyle intervention. This will include changes in diet as well as institution of an exercise program.
Thyroid disorders: Thyroid disorders include hypo or hyper function of the thyroid gland. The thyroid gland produces thyroid hormone which regulates our rate of metabolism. Disorders of the thyroid gland are second only to diabetes in the frequency or prevalence of endocrine disorders.
Pituitary disorders: The pituitary is a master endocrine gland in the brain which acts as the conductor of an orchestra in regulating a number of other hormones. Hypo or hyper function of the pituitary gland produces various ill effects.
Adrenal gland is an endocrine gland located in the abdomen which regulates sodium and potassium balance as well as the (fight or flight) or stress response. Disorders of the adrenal gland can sometimes be life threatening.
Growth and pubertal disorders as well as disorders affecting the male or female reproductive systems.
Disorders of water balance in the body
In addition to hypo or hyper function of glands, sometimes tumours can emerge from endocrine glands. These endocrine tumours have unique characteristics and their diagnosis and treatment is an additional facet in the field of endocrinology.
Calcium and bone disorders like osteoporosis are being increasingly identified in our aging population.
DEPARTMENT OF OPHTHALMOLOGY
Our other areas of expertise include the field of ophthalmology or science of eye diseases. Diabetes can affect various parts of the eye. Some of which can lead to severe loss of vision. Cataract can occur at an earlier age in people with diabetes. A cataract is the opacification of the lens of the eye. The lens helps to focus images on the photographic film of the eye called the retina. Diabetes can cause damage to the tiny blood vessels in the retina leading to diabetic retinopathy. In some cases these vessels leak fluid into an area of retina called macula leading to macular edema. Also poor blood supply in the retina due to diabetes, triggers the proliferation of new blood vessels called Neovascularization. This can cause bleeding in the retina or it can pull the retina and lead to retinal detachment. Glaucoma or increased pressure in the eye is also more common in diabetics than in the non diabetic population. Most of these conditions go unnoticed until late stages. Early detection with comprehensive eye examination and timely treatment can protect against severe vision loss from these conditions. The treatment of retinal disorders can involve use of laser photocoagulation and injection of anti- VEGF or steroids into the eye. These are available at our clinic.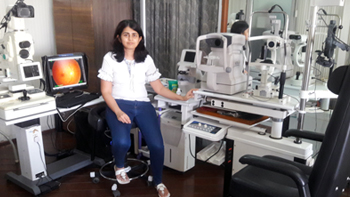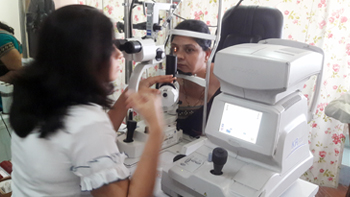 Department of Nutrition and Dietetics
"We are what we eat"
Nowhere is that adage more true than is the field of diabetes. In fact besides calorie restriction no other intervention has been proven to extend life and increase longevity.
We have a team of nutritionists and dieticians who help our patients navigate their way through the healthy food choices and healthy eating patterns. Deprivation is certainly not the answer; our goal is to help the patient make good decisions without unreasonable restrictions.
Often, type 2 diabetes is associated with obesity, therefore our team of nutritionists helps our patients shed weight by calorie restriction, giving healthy food choices and providing exercise regime. Diets provided are not only diabetic diets but they are healthy diets which should be adopted by diabetics and non- diabetics.
Healthy 'diabetic' diets adapted by the patient's family control his/her disease and further prevent family members from developing the disease. Rigorous scientific data has shown that diabetes can be prevented by life style changes. Diabetics often have complications like kidney, heart, liver complications and or associated conditions like high blood pressure and high cholesterol. The treatment of diabetes starts with dietary prescription and lifestyle modification. Our nutritionists have the expertise to treat diabetes and its complications with dietary prescription that is scientific, innovative and individualized.
Ms. Sonal Modi

Chief Nutritionist and
Diabetes Educator

Ms. Drashti Kamdar

M.Sc. (Clinical Nutrition and Dietetics),
B.Sc. (Applied Nutrition)

Ms. Palak Parekh

P.G. (Clinical Nutrition and Dietetics), B.Sc.

Ms. Jayshri Jain

M.Sc. (Food Science and Nutrition), D.Pharm
DEPARTMENT OF DIABETES EDUCATION
Our team consists of qualified Endocrinologists and Diabetologist, general physicians and a Chief Nutritionist and Diabetes Educator (M.Sc., RD, CDE). These professionals are assisted by a trained team of 4 dieticians and diabetes educators (graduate degree, post graduate diploma or P.G degree holders).
Our educators undertake thorough education of each patient on one-to-one basis. They reinforce the educational aspects at subsequent visits. They also run a monthly group education activity. This team helps in providing patients with adequate information regarding the disease, self monitoring and prevention of diabetes and its complications. They help patients in providing information regarding hypoglycemia, eye care, foot care, sick-day routine, and insulin pump therapy and insulin injection technique. Our team of diabetes educators edits a magazine, Diabetes today for people with diabetes and a scientific Journal, Journal of Diabetes Education for the Association of Diabetes Educators. They also manage a website Help Defeat Diabetes Trust (www.helpdefeatdiabetes.org) which imparts distant education to educators in different parts of India. Staff members in Department of Diabetes Education.
Ms. Sonal Modi

Chief Nutritionist and
Diabetes Educator

Ms. Drashti Kamdar

Diabetes Educator



Ms. Palak Parekh

Diabetes Educator



Ms. Jayshri Jain

Diabetes Educator